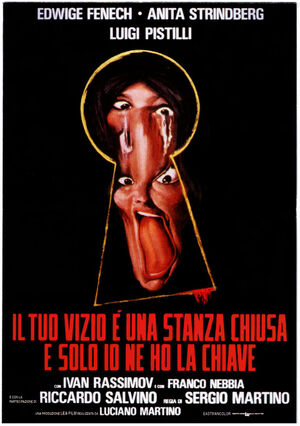 Your Vice Is a Locked Room and Only I Have the Key
(1972)
a.k.a. Il tuo vizio è una stanza chiusa e solo io ne ho la chiave, a.k.a. Gently Before She Dies
Director: Sergio Martino
The twisted relationship between an alcoholic, womanizing writer (Luigi Pistilli) and his emotionally abused wife (Anita Strindberg) is further complicated by the arrival of the writer's seductive niece (Edwige Fenech), and by a series of brutal murders. Very loosely inspired by Edgar Allan Poe's story "The Black Cat."
Male Deaths
Edit
Female Deaths
Edit
Community content is available under
CC-BY-SA
unless otherwise noted.