Yoji Tanaka (1963 - )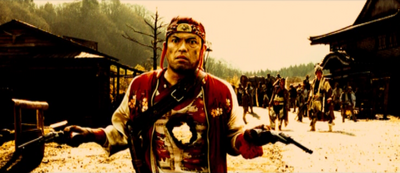 Film Deaths
Edit
Sharkskin Man and Peach Hip Girl (Samehada otoko to momojiri onna) (1998) [Asahina] Shot to death.
Taboo (Gohatto) (1999) [Samurai executed by Kanô] Decapitated by Ryûhei Matsuda in an execution.
Charisma (Karisuma) (1999) [Sugishita] Murdered off-screen. His body is shown laying on the floor.
The City of Lost Souls (Hyôryû-ga) (2000) [Yakuza] Shot to death by Kôji Kikkawa.
Ju-on: The Grudge (2002) [Yûji Tôyama] Murdered by the ghost off-screen. His memorial stand is later shown and he also appears as a ghost in a dream.
The Blind Swordsman: Zatoichi (2003) [Yakuza] Cut down by Tadanobu Asano.
Kill Bill Volume 1 (2003) [Crazy #88 No. 3] Sliced with a sword by Uma Thurman.
Samurai Resurrection (Makai tenshô) (2003) [Samurai] Speared in the chest.
The Great Yokai War (Yokai daisenso; The Great Hobgoblin War; Spook Warfare) (2005) [Yoichi's Father] Dies when the robot monster attack him in his house.
Sukiyaki Western Django (2007) Shot through the stomach creating a giant hole.
None
Community content is available under
CC-BY-SA
unless otherwise noted.