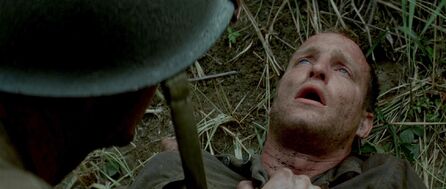 Woody Harrelson (1961 - )
The Thin Red Line (1998) [Sergeant Keck]: Fatally injured in an explosion when he tries to pull a grenade from his belt and only pulls the pin; he throws himself on the grenade to save the others in his unit.
2012 (2009) [Charlie Frost]: Killed in an explosion when the Yellowstone Caldera erupts and a fireball hits near him. (Also in a cartoon that his character made, his character he voices, is eaten by a dinosaur).
Seven Psychopaths (2012) [Charlie]: Shot in the head with a shotgun by Sam Rockwell causing Woody's head to explode, after Sam first shoots him in the neck with an arrow, in Sam's pitch of how the story should end. Woody survives the movie in reality.
Triple 9 (2016) [Sergeant Detective Jeffrey Allen]: Possibly fatally wounded when Clifton Collins Jr. shoots him in the gut during a shootout in Clifton's car and Woody kills him in return; the film ends on a freeze frame of Woody smiling after lighting a cigarette, leaving his fate ambiguous.
Bay Coven (1987 TV movie) [Slater]: Killed when he tries to use James Sikking 's jeep to drive to the ferry dock when the witches had sabotaged or used black magic to make it speed in reverse over a cliff where it explodes on impact.
Ex-Mr. Nancy Simon (thus ex-son-in-law of Neil Simon)
Son of Charles Harrelson (Criminal, Murderer of Judge 'Maximum John' Wood)
Community content is available under
CC-BY-SA
unless otherwise noted.