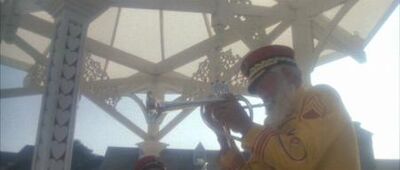 Woody Chambliss (1914 - 1981)
AKA Woodrow Chambliss
The Chase (1966) [McCormick, the salesman]: Hit on the back of the head with a rock by James Anderson when he and fellow escaped prisoner Robert Redford hijack him to steal his car. (Thanks to Brian)
The Devil's Rain (1975) [John]: Burned to death when Ernest Borgnine pours acid onto his face, as William Shatner looks on in horror.
Sgt. Pepper's Lonely Heart Club Band (1978) [Old Sergeant Pepper]: Dies of a heart attack while playing his cornet during a concert. He magically comes back to life in the form of Billy Preston; given the change of ethnicity, it's debatable whether the resurrected "Sgt. Pepper" is supposed to be Woody's actual ghost, the spirit of his music, or the weathervane-statue come to life.
Gargoyles (1972 TV movie) [Uncle Willie]: Burned to death when the gargoyle leader (Bernie Casey) attacks Woody's house, knocking Woody down and causing him to drop his lantern and ignite some kerosene, as Cornel Wilde and Jennifer Salt look on in horror.
Community content is available under
CC-BY-SA
unless otherwise noted.