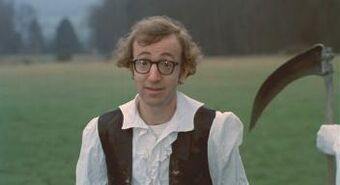 Woody Allen (1935 - )
Director/screenwriter
Film Deaths
[
]
Casino Royale (1967) [Jimmy Bond a.k.a. Dr. Noah]: Killed in an explosion (along with everyone else in the casino) after Daliah Lavi tricks him into swallowing his own explosive pill. He appears as an angel on a cloud (along with all the other "angels") afterwards before being sent down to Hell by Peter Sellers. (Played for comic effect, as are all of the following.)
Everything You Always Wanted to Know About Sex* *But Were Afraid to Ask (1972)[The Fool/Fabrizio/Victor Shakapopulis/Sperm #1]: Playing multiple roles in different segments of the film, "The Fool" is executed by beheading; we see the axe come down, followed by a shot of the head from his jester's marotte falling into the basket. (The other characters survive their stories.)
Love and Death(1975) [Boris Grushenko]: Executed by a firing squad (off-camera); the scene ends with the soldiers firing while Woody is waiting for a reprieve. He appears as a ghost afterwards, talking to Diane Keaton before leaving with the Grim Reaper.
Stardust Memories (1980)[Sandy Bates]: Shot to death by a crazed fan as part of a hallucination (Woody survives the film in reality).
Zelig (1983) [Leonard Zelig]: Dies of natural causes; his death is mentioned in the narration.
Notable Relations
[
]
Gallery
[
]