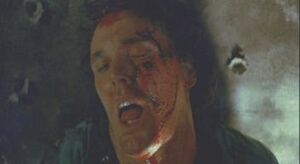 Wings Hauser (1947 - )
Vice Squad (1982) [Ramrod]: Shot in the head by Gary Swanson.
The Wind (1986) [Phil]  Falls to his death after a gust of wind knocks him off a cliff before he can kill Meg Foster.
Tough Guys Don't Dance (1987) [Captain Alvin Luther Regency]: Shot to death (off-camera) by Isabella Rossellini, after Wings is left paralyzed by a stroke; we only hear the gunshot from the other room. (Thanks to Kyle)
The Carpenter (1988) [Edward Carpenter Ed Byrd]: Executed in the electric chair; he later returns from the dead and is finally destroyed (and presumably sent to hell or purgatory) when Lynne Adams destroys his home by setting it on fire with a blow torch, causing Wings to burst into flames (as he is attacking Lynne and her sister, Barbara Ann Jones), he dies after chasing Barbara and Lynne out of said house before spontaneously combusting (I recall when his house collapses and burns to the ground). (Thanks to ND)
L.A Bounty (1989) [Cavanaugh]: Shot repeatedly by Sybil Danning at the end of a struggle/shootout.
Sight Unseen (1990) [Victor Lundgren]: Slipped by the window construction sheets and fall to his death from the building while attempting ask for a help Susan Blakely.
Beastmaster 2: Through The Portal Of Time (1991) [Arklon]: Killed at the end of a fight with Marc Singer.
Tales from the Hood (1995) [Strom]: Decapitated when the undead Tom Wright tears his head off. His body is later seen when the squad car explodes. (Thanks to Kyle)
Life Among the Cannibals (Thrill Kill) (1996) [Vince]: Bludgeoned to death with a poker by Kieran Mulroney; his body is then dragged to a bathtub and dismembered with a power saw. (Thanks to Iron Duke)
Original Gangstas (1996) [Michael Casey]: Killed in a fight/shootout with gang members
Avenging Angel (2007) [Colonel Cusack]: Shot to death in a shoot-out with Kevin Sorbo. (Thanks to ND)
Rubber (2010) [Man in Wheelchair]: Explodes when the sentient tire (now reincarnated as a tricycle) uses its telekinetic powers on him. (Thanks to Tommy)
Son of Dwight Hauser (screenwriter)
Husband of Cali Lili Hauser
Father of Cole Hauser
Community content is available under
CC-BY-SA
unless otherwise noted.