Wiki Targeted (Entertainment)
Play Sound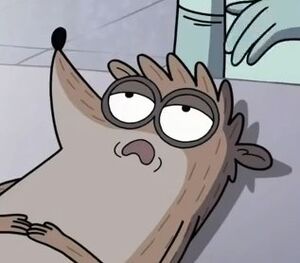 William Salyers (1964 -)
Film Deaths
[
]
Batman: Return of the Caped Crusaders (2016) [The Penguin]: Voicing both the "Penguin" and a duplicate, the duplicate (along with those of the Joker and the Riddler) disintegrate when the effect of the duplicate ray-gun wear off.

Batman: Gotham by Gaslight (2018)

[Hugo Strange]: Dismembered by asylum inmates after being tossed into a pit by Scott Patterson.
TV Deaths
[
]
Regular Show: Over The Top (2011) [Rigby (voice)]: Provided the voice of a raccoon. Rigby is accidentally killed by Skips (voiced by Mark Hamill) when Skips bludgeons Rigby to the wall during an arm wrestling match. Rigby is first shown dead at the beginning of the episode and the death is shown as a flashback. He is brought back to life after Skips won against Death (voiced by Julian Holloway).
Regular Show: The Movie (2015) [future Rigby (voice)]: Shot by the future mordecai but he manages to go back in time to warn his past self and the main characters before dying of his wound.
Video Game Deaths
[
]
The Darkness II (2012) [Victor]: Beaten to death by Brian Bloom with the Siphon at the end of the final battle.
Mass Effect 3 (2012) [Professor Mordin Solus]: As with many characters, William can die at many points throughout the game determinant on player choice: in the event that the player chooses to cure the genophage, William sacrifices his life to project the finished cure into the atmosphere and is killed in the destruction of the Shroud. Alternatively, if the player chooses to not cure the genophage, and William cannot be persuaded to stand down, he is fatally shot by Mark Meer/Jennifer Hale, ultimately bleeding out while trying to reach the Shroud controls. However, if he is convinced to abandon his plans for the cure and become a war asset, William can also die in two of the game's endings: "Destroy," in which he is killed along with the Reapers and the rest of the cast if the player did not gather enough assets, and "Refusal," in which he is harvested or killed by the Reapers, along with all other advanced forms of life in the galaxy.
Gallery
[
]