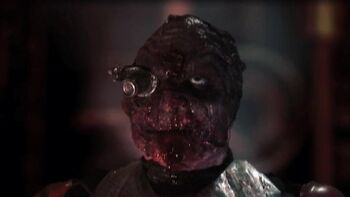 William O'Donnell (19??-)
Film Deaths
Edit
Insanophenia (2007) [Will]: Appears as a fictionalized version of himself. He is sprayed in the face with acid before being dragged offscrean and ripped apart by a monster called Mother. 
Lazer Ghosts 2: Return to Laser Cove (2008) [Lazer Ghost]: Appears as a ghost.
Heart of Karl (2008 [Inmate]: Appears as a heavily bandaged inmate who has his head smashed by a bat swung by Conor Sweeney . 
Manborg (2011) [Arena Victim/Doctor Hell/Elite Guard #2/Assorted Killborgs]: Playing multiple roles in alien make-up, most of his characters are killed in battle. (According to the US DVD's audio commentary by director Steven Kostanski, William dies eleven times in the movie, though he only points out a few specific examples.) "Doctor Hell" is stabbed in the eye when Ludwig Lee throws a nunchaku at him, then is kicked in the face by Ludwig. One "Killborg" is shot in the head by Conor Sweeney during the assault on the bad guys' headquarters. Another "Killborg" is shot in the chest by Conor. A third is partially decapitated when Ludwig punches him in the face, causing his neck to fold backwards. Several "Elite Guards" are shot to death by Conor during the raid. (These are the only ones specifically identified as William by the audio commentary.)
TV Deaths
Edit
None known.
Community content is available under
CC-BY-SA
unless otherwise noted.