Wiki Targeted (Entertainment)
Play Sound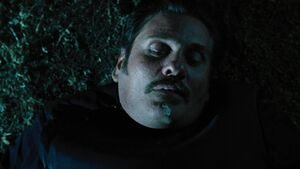 William Forsythe (1955 - )
Weeds (1987) [Burt the Booster]: Beaten to death during a prison riot. 
Out For Justice (1991) [Richie Madano]: Stabbed in the head with a corkscrew by Steven Seagal at the end of a fight; his body is later seen when Steven uses a mobster's gun to shoot William several times to make it look like a mob hit so Sal Richards can take the credit.
Stone Cold (1991) [Ice]: Killed in a car crash/explosion after a chase with Brian Bosworth he dies after talking to Brian. His body is later seen when Lance Henriksen and the other outlaw bikers set him on fire for a Viking funeral. 
Ambushed (1998) [Mike Organski]: Shot by David Keith; he mananges to shoot David in turn before dying. 
Firestorm (1998) [Randall Alexander Shaye]: Burned to death when Howie Long thrusts his head up into the midst of a firestorm after being shot then impaled in the chest with a thrown axe.
The Rig (2010) [Jim Fleming]: Mauled or slashed to death by a mutated Dan Benson after Dan grabs him through a window before dragging him outside.
Inkubus (2011) [Ret. Detective Gil Diamante]: Commits suicide by shooting himself in the heart to cease Robert Englund from taking full control.
Masters Of Horror: We All Scream for Ice Cream (2007) [Buster]: Run over by an ice cream truck after Samuel Patrick Chu orders Spencer Achtymichuk to disengage the truck's emergency brake prior to the events of the episode; his death is shown in a flashback and he returns as a vengeful spirit in the present. He later dies again when Quinn Lord eats a voodoo ice cream bar shaped like William, causing him to dissolve. (William makes a brief appearance at the end of the episode, implying he might not be dead for good.)
Ex-Mr. Melody Munyon
No relation to John Forsythe (despite many rumors)
Community content is available under
CC-BY-SA
unless otherwise noted.