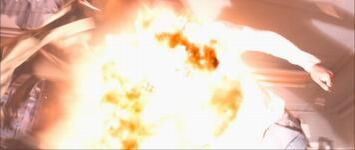 Will Smith (1968 - )
Not to be confused with William Smith.
Film DeathsEdit
Six Degrees of Separation (1993) [Paul]: Possibly commits suicide off-screen by hanging himself in jail. His possible death is mentioned by Stockard Channing when she says she read a newspaper article about a man who hung himself in jail but isn't sure if the man was Will.
I Am Legend (2007) [Robert Neville]: Killed in an explosion when he sacrifices himself by detonating a grenade to destroy the Infected in his laboratory, so that Alice Braga and Charlie Tahan can escape with the cure. The 2-disc DVD includes an alternate ending in which he survives.
Hancock (2008) [John Hancock]: Is temporarily clinically dead when Charlize Theron "dies," due to the link between their powers; he revives after moving away from Charlize and weakening the bond.
Anchorman 2: The Legend Continues (2013) [ESPN Reporter Jeff Bullington]: Possibly killed along with his news team when he calls in an airstrike to carpet bomb the whole park they're all fighting in. It's unclear exactly who was killed in the bombing, and it's unlikely that Will was among the casualties since he was the one who called in the airstrike, but I will list this just in case. (Played for comic effect.)
TV DeathsEdit
Notable ConnectionsEdit