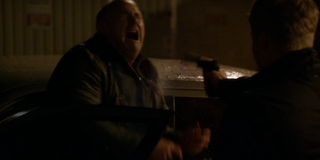 Will Sasso (1975 - )
Deaths in Television
Edit
MADtv (Paul Timberman: Wonder Tool 2000) (2001) [Paul Timberman]: Head blown off after he accidently puts a flair in the tool and presses the button to release the flair.
MADtv Season 7 Ep. 2 (Brian`s secret Skill) (2001) [Mr. Robeshaw]: Presumably killed in an explosion along with Michael McDonald, Alex Borstein, Frank Caliendo, and Stephnie Weir after Michael McDonald farts and a gas stove is running. (Played for Comic Effect.)
Justified: Shot All to Hell (2014) [Al Sura]: Shot to death by Alan Tudyk.
Shameless: Going Once, Going Twice (2016) [Yanis]: Burns to death after he accidentally ignites Molotov cocktails on his lap while attempting to set Steve Howey on fire.