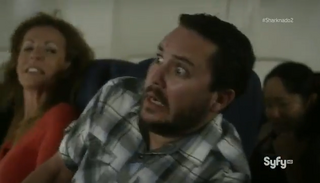 Wil Wheaton (1972 - )
Toy Soldiers (1991) [Joey Trotta]: Machine-gunned by Jerry Valdez, after Wil rushes out of the school shooting at Jerry and the rest of Andrew Divoff's mercenaries, while Sean Astin and the other hostages look on in horror; his body is later seen when paramedics carry it out on a stretcher.
Star Trek: The Next Generation: Hide and Q (1987) [Wesley Crusher]
The Outer Limits: The Light Brigade (1996) [Cadet]: Even though he is alive up until the episodes end it is established that he had already recieved a lethal dose of neutron radiation when the aliens attack the ship he was on.
Python (2000 TV) [Tommy]: Eaten by the giant python as he goes to investigate the basement.
Sharknado 2: The Second One (2014 TV) [Airplane Passenger]: Decapitated when a flying shark bites his head off, after Wil leans out of his seat to look further down the airplane, as Anne Wheaton watches in shock. (Wil's role in this film is uncredited.)
Community content is available under
CC-BY-SA
unless otherwise noted.