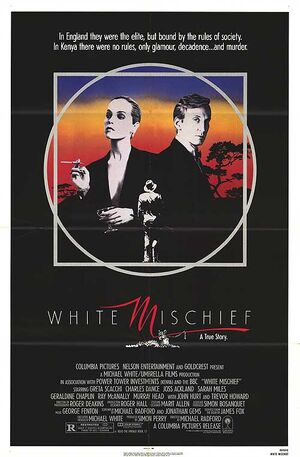 White Mischief (1987)
Director: Michael Radford
Dramatizing the events leading up to and the aftermath of the Happy Valley murder case in Kenya in 1941, when Sir Henry "Jock" Delves Broughton was tried for the murder of Josslyn Hay, Earl of Erroll, though the case was never resolved and thereby remains an open cold case.
Based on a book by the Sunday Times journalist James Fox (originally researched with Cyril Connolly for an article in December 1969)
In 1996, Mariette Bosch murdered Ria Wolmerans in Botswana. Both women were white South Africans. The case was referred to as "Botswana's white mischief".
De Janzé actually shot herself on 30 September 1941, while Delves Broughton eventually returned to England and officially committed suicide by morphine overdose in the Adelphi Hotel in Liverpool in December 1942, over a year later.
Male Deaths
Edit
Female Deaths
Edit
Community content is available under
CC-BY-SA
unless otherwise noted.