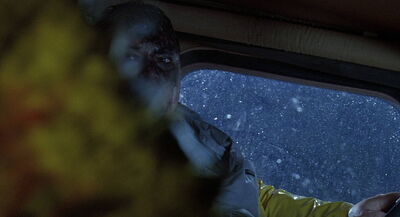 Wayne Knight (1955 - )
Film Deaths
Edit
Jurassic Park (1993) [Dennis Nedry]: Eaten by a juvenile Dilophosaurus (off-camera), after it attacks him in his vehicle. We only hear Wayne screaming as the dinosaur pounces on him.
TV Deaths
Edit
The Grim Adventures of Billy and Mandy: Billy and Mandy's Jacked-Up Halloween (2003) [Jack O'Lantern]: Head smashed by demons (off-screen) after Greg Eagles sends him to the underworld by tickling him to death. The screen turned black on what the demons do to him, but a squishing sound is heard to confirm his death.
American Dad: Naked to the limit, One more Time (2013;animated) [Overweight Customer Who's pants Are Caught On Fire]: Providing the voice of an overweight character he is killed (off-screen) when the building he`s in catches on fire leaving Steve, voiced by Scott Grimes to call for the police but instead doesn`t mention to the cops about the building being on fire. An explosion is heard in the background as Steve walks away. (Played for Comedic effect)
Harley Quinn: New Gotham (2019; series) [Penguin]: Stabbed in the neck by Harley Quinn (voiced by Kaley Cuoco) with a broken baseball bat.
 
Community content is available under
CC-BY-SA
unless otherwise noted.