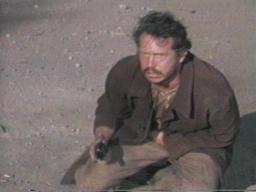 Warren Oates (1928 - 1982)
Film Deaths:
Edit
The Shooting (1967) [Willett Gashade]: Shot in the chest in a shoot-out with Millie Perkins in the desert. (Throughout the movie, Warren, Millie and Jack Nicholson have been tracking a mysterious quarry; when they finally catch up with him, the quarry is also played by Warren, and it's this "other" Warren who is killed, rather than Warren's "Willett" character. It's ambiguous whether this double role was meant to be a literal "twin brother," or symbolic.)
Welcome to Hard Times (Killer on a Horse) (1967) [Deputy Marshal Leo Jenks]: Shot in the chest by Aldo Ray outside the burning saloon.
Barquero (1970) [Remy]: Shot in the chest by Lee Van Cleef. (Thanks to Harry)
There Was a Crooked Man... (1970) [Floyd Moon]: Shot to death by Kirk Douglas. (Thanks to Fred)
Race with the Devil (1975) [Frank Stewart]: Burned to death when the cultists surround his mobile home with a circle of fire. (Thanks to Fred)
Sleeping Dogs (1977) [Colonel Willoughby] Machine gunned in the face by Ian Mune
The Border (1982) [Red]: Killed in a car crash/explosion. (Thanks to Fred)
TV Deaths:
Edit
Wanted Dead or Alive: Die by the Gun (1958) [Jesse Cox]: Shot to death in a shoot-out with Steve McQueen.
The Rifleman: The Marshal (1958) [Andrew Sheltin] Shot by Paul Fix in a gunfight, after Warren (non-fatally) shoots Chuck Connors.
The Rifleman: Bloodlines (1959) [Jud Malakie]: Shot to death by Chuck Connors. 
Trackdown: Bad Judgment (1959) [Lute Borden] Shot by a deputy while Warren is running away after escaping from jail.
Wanted: Dead or Alive: The Legend (1959) [Billy Clegg]: Shot in the chest in a shoot-out with Steve McQueen.
The Rifleman: The Prodigal (1960) [Santos]: Shot to death along with Lee Van Cleef in a shoot-out with Chuck Connors.
The Twilight Zone: The 7th Is Made Up of Phantoms (1963) [Corporal Richard Langsford]: Killed (off-screen), along with Randy Boone and Ron Foster, in a battle with Sioux warriors after they somehow go back in time to Custer's Last Stand. Their deaths are confirmed when their names appear on a memorial. (Thanks to Kenneth and Ray)
The Outer Limits: The Mutant (1964) [Reese Fowler]: Killed by the darkness (as his mutated form needs light to survive) when he accidentally extinguishes his candle while chasing Betsy Jones-Moreland and Larry Pennell in a cave. We only hear him screaming in the dark. (Warren is wearing heavy mutant make-up in this episode.) (Thanks to Kenneth)
Gunmoke: The Mission (1966) [Lafe]: One of 4 men who have robbed the bank, he is shot in the back by Rafael Campos as they try to ride away, he returns fire wounding Campos but then James Arness guns him down. (Thanks to Brian)
Gunsmoke: The Wreckers (1967) [Tate Crocker]: Shot twice in the chest in a shoot-out with James Arness.
The Blue and the Gray (1982 TV mini-series) [Preacher / Maj. Welles]: Shot in the head by Stacy Keach when he is attacked by Warren's characters.
Notable Connections
Edit
Community content is available under
CC-BY-SA
unless otherwise noted.