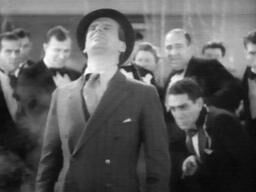 Wallace Ford (1898 - 1966)
The Beast of the City (1932) [Ed Fitzpatrick]: Shot in the back by J. Carrol Naish while being used as a hostage in an attempt to keep the police away. (Thanks to McQuade)
Headline Shooter (1933) [Mike]: Dies from injuries sustained when a wall falls down on him while he is filming a brewery fire.
The Informer (1935) [Frankie McPhillip]: Shot to death by British officers as he tries to escape through a window.
The Cross of Lorraine (1943) [Pierre Flandeau]: Shot to death by Nazi guards as he tries to climb over the fence of the POW camp.
T-Men (1947) [The Schemer]: Steamed to death when Charles McGraw, turns the heat on so high in the sauna.
Dakota Lil (1950) [Carter]: Mortally shot by members of The-Hole-In-The-Wall gang as he rides away from their hideout, he falls from his horse. Some hours later Marie Windsor goes to visit gang leader Rod Cameron and finds him beating the dying Wallace before strangling him with a leather thong. (Thanks to Brian)
The Breaking Point (1951) [F.R. Duncan]: Shot in the back by police, while trying to escape during a heist.
The Great Jesse James Raid (1953) [Elias Hobbs]: Drowned in the flooding mine. (Thanks to Brian)
Community content is available under
CC-BY-SA
unless otherwise noted.