Line 4:
Line 4:
 

*'''''[[24 (2001 series)|24: Day 8: 11:00pm-12:00am (2010)]]''''' [''Sergei Bazhaev's Henchman'']: Shot to death by [[Kiefer Sutherland]].

 

*'''''[[24 (2001 series)|24: Day 8: 11:00pm-12:00am (2010)]]''''' [''Sergei Bazhaev's Henchman'']: Shot to death by [[Kiefer Sutherland]].

 
 
−

*'''''[[Grimm (2011 series)|Grimm: Red Menace (2014)]]''''' [''Alex Renko'']: Dies (offscreen) from radiation poisoning after being wounded by [[Mark Ivanir]]'s Koschei powers over the course of a botched assassination attempt. He is last seen speaking to [[Sasha Roiz]]; his body is not seen or mentioned after this, but as it was established that he was given a fatal dose, his death is totally assured.

+

*'''''[[Grimm (2011 series)|Grimm: Red Menace (2014)]]''''' [''Alex Renko'']: Dies (offscreen) from radiation poisoning after being wounded by [[Mark Ivanir]]'s Koschei powers a botched attempt. He is last seen speaking to [[Sasha Roiz]] his body is not seen or mentioned after this, but as it was established that he was given a fatal dose, his death is totally assured.

 
⚫
 

[[Category:Year of birth unknown]]

 

[[Category:Year of birth unknown]]

 

[[Category:Stunt Performers]]

 

[[Category:Stunt Performers]]

Line 16:
Line 17:
 

[[Category:Martial Arts]]

 

[[Category:Martial Arts]]

 

[[Category:Not Listed on Original Cinemorgue]]

 

[[Category:Not Listed on Original Cinemorgue]]

⚫
 
 

[[Category:Deaths in 24]]

 

[[Category:Deaths in 24]]
---
Latest revision as of 07:16, 1 January 2019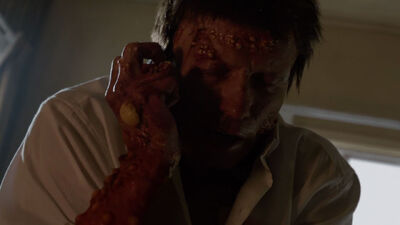 Vladimir Tevlovski (19?? -)
Grimm: Red Menace (2014) [Alex Renko]: Dies (offscreen) from radiation poisoning after being wounded by Mark Ivanir's Koschei powers during a botched attempt on Mark's life. He is last seen speaking to Sasha Roiz in the hospital; his body is not seen or mentioned after this, but as it was established that he was given a fatal dose, his death is totally assured.
Community content is available under
CC-BY-SA
unless otherwise noted.