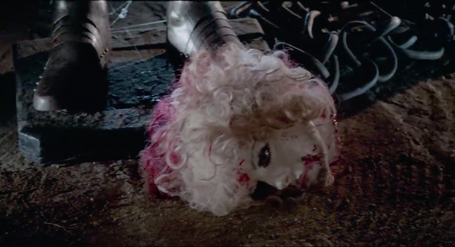 Virna Lisi (1936 - 2014)
Eva (Eva, the Devil's Woman; Eve) (1962) [Francesca]: Commits suicide by deliberately crashing her speedboat; we only hear the impact over a shot of Stanley Baker watching helplessly from the shore.
The Possessed (La Donna del lago; The Lady of the Lake) (1965) [Tilde]: Throat slit with a razor (off-screen) by Valentina Cortese. (Thanks to Andrea)
The Girl and the General (La Ragazza e il generale) (1967) [Ada]: Mortally injured in an explosion while crossing a minefield. (Thanks to Vincent)
Bluebeard (1972) [Elsa]: Decapitated with a guillotine by Richard Burton in his cellar. Her unconvincing head is shown again afterwards when Joey Heatherton discovers it in the freezer with Richard's other wives.
Challenge to White Fang (Il Ritorno di Zanna Bianca; The Return of White Fang) (1974) [Sister Evangelina]: Burned to death while rescuing Renato Cestie from a burning building; she dies of her injuries right after carrying him to safety. (Thanks to Johan)
The Cricket (La Cicala) (1980) [Wilma Malinverni]: Commits suicide by drowning herself in the river. we last see her thrashing around in the water before Cleo Goldsmith unsuccessfully tries to rescue her. Her body is not shown afterwards.
Community content is available under
CC-BY-SA
unless otherwise noted.