watch 01:23
Wiki Targeted (Entertainment)
Play Sound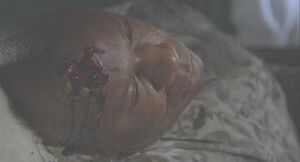 Ving Rhames (1959 - )
Film Deaths
Con Air (1997) [Nathan 'Diamond Dog' Jones]: Killed in an explosion when Nicolas Cage sends his motorcycle crashing into the back of the firetruck that Ving is riding on.
Dangerous Ground (1997) [Muki]: Stabbed to death with a spear by Ice Cube, who then throws his body through a high rise window onto a parked car far below.
Final Fantasy: The Spirits Within (2001) [Sgt. Ryan Whitaker]: Spirit pulled out of his body by an alien phantom (on top of being impaled through the stomach in a car crash, pinning him to a vehicle).
Dawn of the Dead (2004) [Kenneth]: Killed (off-screen) by the zombies. The movie ends with video-camera footage of the zombies closing in, interspersed with the closing credits, so his fate is only strongly implied rather than actually confirmed.
Back in the Day (2005) [J-Bone]: Shot twice in the chest by a police sniper while Ving is pointing his guns at Ja Rule and Stephen Kough.
Shooting Gallery (Video, 2005) [Cue Ball Carl Bridgers]: Shot to death by Callum Keith Rennie in a gunfight with Callum. He later dies after shooting Callum in return and talking to Freddy Prinze Jr.
The Tournament (2009) [Joshua Harlow]: Killed in an explosion, along with Liam Cunningham, after Ving forces the explosive tracking device down Liam's throat in Liam's "game room" headquarters.
Piranha 3D (2010) [Deputy Fallon]: Eaten by the piranha as he tries to defend himself with a boat motor. NOTE: His character returns for the sequel, having survived but we'll list this just in case they intended it to be an actual death scene (and if this can be viewed as a standalone film).
Julia X (2011) [The Man]: Lured into a washroom with the promise of sex by Alicia Leigh Willis, as he stands behind her groping her she pulls a pair of sewing scissors from her boot and stabs him through the eye. (Thanks to Brian)
TV Deaths
Miami Vice: Child's Play (1987) [Walker Monroe]: Falls to his death at the end of a fight with Don Johnson.
Zombie Apocalypse (2011 TV Movie) [Henry]: Succumbs to his wounds after being clawed in a fight with a zombie lion and after briefly talking to the other survivors.
Gallery