Wiki Targeted (Entertainment)
Play Sound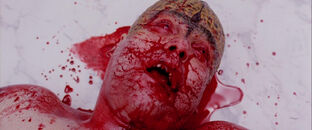 Vincent D'Onofrio (1959 - )
Ed Wood (1994) [Orson Welles]: Dies (off-screen) of a heart attack, several years after the movie ends.
The Whole Wide World (1996) [Robert E. Howard]: Commits suicide (off-screen) by shooting himself in the head; we only see a scene of Renee Zellweger being informed of his death.
The Velocity of Gary (1998) [Valentino]: Dies of AIDS-related complications in the hospital, shortly after Salma Hayek and Thomas Jane take a break from their bedside vigil. (Thanks to Megan and Jesse)
The Thirteenth Floor (1999) [Jason Whitney/Jerry Ashton]: Playing a dual role in two virtual-reality planes, "Jason" (in Jerry's role) is run over by a car in the 1930s simulation. "Jerry" (now in Jason's role) is shot repeatedly in the head and chest by Craig Bierko. (Thanks to Betty and PortsGuy)
Impostor (2001) [Major D.H. Hathaway]: Killed in an hydrogen/nuclear explosion (along with all his cohorts) when Gary Sinise's android duplicate self-destructs (after Vincent discovers the real Gary Sinise dead in a space craft). (Thanks to Jesse)
Fire with Fire (2012) [David Hagan]: Falls to his death out the top floor of a building after being shot multiple times by Rosario Dawson who later shot at the gas canister engulfing him in flames (on top of having a fire axe thrown into his chest by Josh Duhamel).
CHiPs (2017) [Ray Kurtz]: Accidentally shot in the head when he opens fire on Dax Shepard with one of the bullets being deflected off his titanium arm plates.
Homicide: Life on the Street: The Subway (1997) [John Lange] Run over by a subway train after being pushed onto the tracks; he is not instantly killed, and the entire episode deals with his ordeal being pinned under the subway car (as any attempt to free him will only kill him sooner). I believe his actual death occurred off-screen (but it's been so long since I've seen the episode that I can't recall for certain.)
The Taking of Pelham One Two Three (1998 TV) [Mr. Blue]: Commits suicide by electrocuting himself on the subway's third rail, rather than be arrested by Edward James Olmos. (I haven't seen this version, but I have seen Robert Shaw's death in the 1974 version.) (Thanks to Debbe)
Community content is available under
CC-BY-SA
unless otherwise noted.