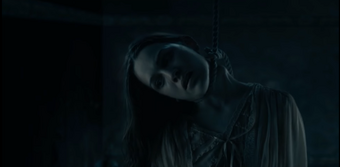 (1995-)
None
The Haunting of Hill House: The Bent-Neck Lady (2018) [Eleanor 'Nell' Crain]: Dies when she accidently hangs herself under the influence of the haunted house (in form of her mother, Carla Gugino). Her death was established in the first episode, but this is the episode that shows her death. She appears in flashbacks and as a ghost throughout the series.
Amazing Stories: The Cellar (2020): [Evelyn Porter]: Possibly dies due to the big storm that hit in 1919. This according to an article that Dylan O'Brien is reading about the victims and the disappeared. Her possible death is undone when Dylan goes back to the past and takes her to the future. (NOTE: There's was a name for this type of storm, and it's named in the series, but I can't remember it). (Thanks to Dake).
The Haunting of Bly Manor: The Beast In The Jungle (2020) [Dani Clayton]: Drowns herself in the lake (offscreen) in order to prevent Kate Siegel's possessing spirit from hurting anyone. Her death is not discovered until Amelia Eve swims down and finds her body.
Community content is available under
CC-BY-SA
unless otherwise noted.