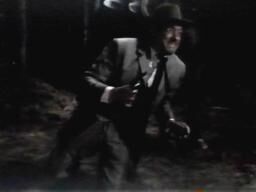 Victor Jory (1902 - 1982)
Tombstone: The Town Too Tough To Die (1942) [Ike Clanton]: Shot by Don Castle as he is about to shoot Edgar Buchanan in the back. (Historically, Ike Clanton was killed by Jonas V. Brighton and made no attempt to kill Curly Bill (whom he outlived)) (Thanks to Brian)
The Kansan (1943) [Jeff Barat]: Killed in the explosion, along with Douglas Fowley and a bunch of gunslingers when the townsmen blow up the toll bridge they are walking across. (Thanks to Brian)
The Loves of Carmen (1948) [Garcia]: Stabbed to death at the end of a knife-fight with Glenn Ford.
South Of St Louis (1949) [Luke Cottrell]: He is being manhandled by Joel Macrae seeking information when Bob Steele throws a knife into his back to stop him talking. (Thanks to Brian)
Fighting Man Of The Plains (1949) [Dave Oldham]: Shot dead by Bill Williams in the big finale shootout. (Thanks to Brian)
The Cariboo Trail (1950) [Frank Walsh]: Shot to death in a shoot-out with Bill Williams, whom he shoots in turn.
The Man Who Turned to Stone (1957) [Dr. Murdock]: Burned to death after a fire breaks out in his laboratory.
Cheyenne Autumn (1964) [Tall Tree]: Dies from old age as he travels with the rest of the Cheyenne as they try to head home.
The High Chapparal: The Peacemaker (1968) [Mr. Kelly]: Unarmed, trying to stop the apache attack on the ranch, he is shot down by David Renard. Does not die immediately, as Barbara Hershey runs to him she is killed by an arrow in the back, and Jory picks up the rifle of a dead Indian and shoots Renard before falling alongside her. (Thanks to Brian)
Greatest Heroes of the Bible: Samson and Delilah (1978) [Horaz/Narrator]: 'Horaz' is crushed to death when John Beck (who had just regained his strength) pushes the arena's support beams down.
Community content is available under
CC-BY-SA
unless otherwise noted.