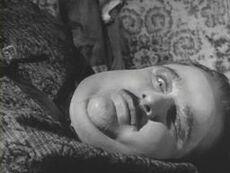 Victor Buono (1938 - 1982) 
Beneath the Planet of the Apes (1970) [Fat Man]: Either killed (off-screen) by the apes during their attack on the underground city, or killed in the explosion when Charlton Heston detonates the doomsday bomb.
The Mad Butcher (Lo Strangolatore di Vienna; Meat is Meat; The Strangler of Vienna) (1971) [Otto Lehman]: Falls into his meat-grinding machine at the end of a struggle with Brad Harris.
The Flight of Dragons (1982; animated) [Aragh the Wolf]:
The Wild Wild West: The Night of the Inferno (1965) [Juan Manolo]: Stabbed in the chest with a blade concealed in a pool cue, at the end of a fight with Robert Conrad.
Taxi: Jim's Inheritance (1982) [James Caldwell]: Dies (off-screen) of heart failure; we learn of his death when his son (Christopher Lloyd) is informed that Victor's funeral had been held several days before. (Note: Victor doesn't appear in person in this episode, having died in early January that year of an actual heart attack, as well as not having guest starred on the show since the episode Going Home two years prior.)
Community content is available under
CC-BY-SA
unless otherwise noted.