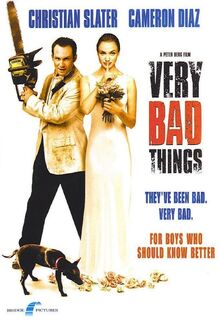 Very Bad Things (1998)
Director: Peter Berg
Kyle Fisher (Jon Favreau) heads to Las Vegas for a bachelor party with four friends. When one of them accidentally kills a hired stripper and a security guard finds the body, unstable Boyd (Christian Slater) kills the guard to keep him from calling the cops, then organizes the group to dispose of the corpses. Back home, Kyle is troubled and has difficulty hiding his worries from his fiancée (Cameron Diaz). Meanwhile, to ensure his own safety, Boyd begins killing the others.
Male Deaths
Edit
Female Deaths
Edit
Community content is available under
CC-BY-SA
unless otherwise noted.