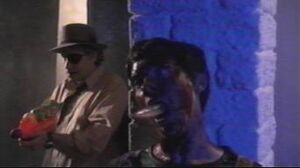 Vanessa Marshall (1969 - )
Prolific voice artist
Film Deaths 
Jack Frost 2: Revenge of the Mutant Killer Snowman (2000) [Bloody Girl]: Impaled through the mouth when the snowman launches an icicle at her. her body is shown again later on pinned to the column when Christopher Allport and David Allen Brooks go searching for the snowman.
Television Deaths
Sym-Bionic Titan: The Phantom Ninja (2010) [Xeexi]: Stomp by Ilana (voiced by Tara Strong), Lance (voiced by Kevin Thomas), and Octus (voiced by Brian Posehn) while in Titan form. She managed to launch a probe to her master: General Modula (voiced by Don Leslie).
Avengers: earth's Mightiest Heroes: Who do you trust (2012; animated) [Skrull Madame Hydra]: Die offscreen and revert back to her true form.
Star Wars: Rebels: Path of the Jedi (2014; animated) [Hera Syndulla]: Killed offscreen along with Zeb (voiced by Steven Jay Blum), and Sabine Wren (voiced by Tiya Sircar) by the Inquisitor (voiced by Jason Isaacs), Hera's death along with Zeb's and Sabine's were only visions by Ezra Bridger (voiced Taylor Gray. The real Hera lives!
Star Wars: Rebels: The Protector of Concord Dawn (2016; animated) [Phoenix Four]: Shot down by the protectors.
Star Wars: Rebels: Double Agent Droid (2017; animated) [Hera Syndulla/PZ-7/Female Intelligence Officer]: Voice 3 characters: "Female Intelligence Officer" is killed in an explosion by an overload from Chopper created by Hera Syndulla (also voiced by Vanessa). Hera Syndulla and PZ-7 lived!
Video Game Deaths
Metal Gear Solid V: The Phantom Pain (2015) [Dr. Strangelove]: Dies of asphyxiation after Christopher Randolph seals her inside an AI pod.
Noteworthy Connections
Community content is available under
CC-BY-SA
unless otherwise noted.