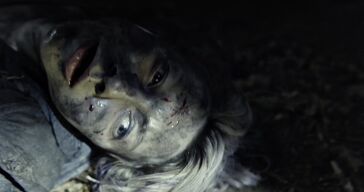 Valorie Curry (1986 - )
Blair Witch (2016) [Talia]: Spine snapped after Corbin Reid breaks a supernatural stick figure with Valorie's hair on it, unaware that damaging the stick will harm Valorie.
The Following: Silence (2014) [Emma Hill]: Stabbed in the chest with a piece of wood by Natalie Zea, in addition to being stabbed in the stomach and thrown out of a window.
Detroit: Become Human [Kara]: Depending on the player's actions, Valorie can die in the following ways: (1) Beaten to death by Dominic Gould. (2) Killed in a car accident. (3) Shot to death by Saul Jephcott. (4) Shot to death by soldiers. (5) Shot to death by a drone. (6) Drowns while bringing a boat into the water. (7) Dies from the trauma of Audrey Boustani's death. (8) Burned to death in an incinerator (along with Audrey). She survives the game if these deaths are avoided.
Community content is available under
CC-BY-SA
unless otherwise noted.