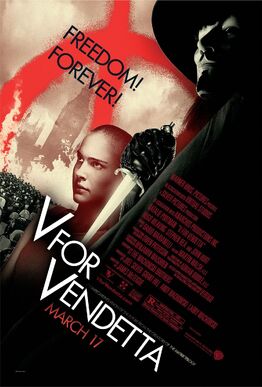 V for Vendetta (2005)
Director: James McTeigue
note on year: 2005 is when it was fully completed. it got kinda pushed back to being released in early 2006.
Following world war, London is a police state occupied by a fascist government, and a vigilante known only as V (Hugo Weaving) uses terrorist tactics to fight the oppressors of the world in which he now lives. When V saves a young woman named Evey (Natalie Portman) from the secret police, he discovers an ally in his fight against England's oppressors.
For the scene when V emerges from Larkhill, stunt double Chad Stahelski literally walked through fire, wearing just a special fire resistant gel and a g-string. Stahelski's body temperature had to be lowered before the scene was shot, and luckily, it was three degrees below zero the night of the shoot. Fifteen minutes before a take, he would put on ice cold flame resistant clothing, and once he took them off, he would be covered with fire resistant gel which had been icing all day long.
The secret police are called "Fingermen", because the New Order was arranged on the model of the human body. The Chancellor was the Head; the television station BTN was the mouth; visual and audio surveillance were the Eyes and the Ears; Inspector Finch was part of The Nose, the police force, and Creedy's secret police were the Hand.
On a clock that has an hour hand and a minute hand, the time 11:05 makes a V. These two numbers, eleven and five, where eleven is November, and five is the day of November, spell out: the fifth of November. "Remember, remember the 5th of November."
All of V's dialogue was dubbed. Initially, a mask was designed with a small microphone inside, and another mike was designed to sit along Hugo Weaving's hairline, but neither worked very well.
Male Deaths
Edit
Female Deaths
Edit
Community content is available under
CC-BY-SA
unless otherwise noted.