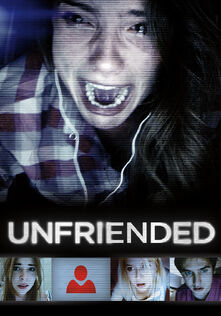 Director: Leo Gabriadze
One night, while teenagers Blaire, Mitch, Jess, Adam, Ken and Val take part in an online group chat session, they are suddenly joined by a user known only as "Billie227." Thinking it's just a technical glitch, the friends carry on their conversation... until Blaire begins receiving messages from someone claiming to be Laura Barns, a classmate who killed herself exactly one year prior. As Blaire tries to expose Billie's identity, her friends are forced to confront their darkest secrets and lies.
Male Deaths
Edit
Female Deaths
Edit
Community content is available under
CC-BY-SA
unless otherwise noted.