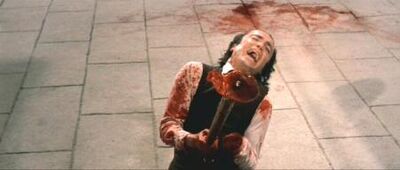 Udo Kier (1944 - )
Film Deaths
Edit
Andy Warhol's Dracula (Blood for Dracula) (1974) [Count Dracula]: Stabbed in the chest with a wooden stake by Joe Dallesandro, after Joe chops off Udo's arms and legs. Milena Vukotic then throws herself onto the stake to join Udo in death.
100 Jahre Adolf Hitler – Die letzte Stunde im Führerbunker (1989) [Adolf Hitler]: Commits suicide by shooting himself in the head in the bunker.
Prince Valiant (1997) [Sligon]: Impaled through the back on the sword Excalibur when he's knocked into it at the end of a struggle with Thomas Kretschmann; Thomas then pulls the sword out of Udo's body while drawing it out of the stone floor.
Blade (1998) [Vampire Elder Dragonetti]: Burned to death by sunlight, after Stephen Dorff tears out Udo's fangs and leaves him in the sun to die. 
Critical Mass (2000) [Samson]: Killed when he drives his truck off the cliff while pushing a prison bus.
Dracula 3000 (2004) [Captain Varna]: Dies off-screen after sealing himself in the control room to escape the vampires, several years before the story begins; his mummified body is shown when the salvage crew discovers him, and the living Udo is only seen in video recordings from his log. (T
The Mother of Tears (La Terza madre; The Third Mother) (2007) [Father Johannes]: Stabbed and hacked to death by Barbara Mautino.
Far Cry (2008) [Dr. Lucas Krieger]: Possibly killed (off-screen) by the "super-soldiers"; we last see Udo standing on the dock after discovering that his escape boat has been taken, while a super-soldier approaches him. Although his fate appears open-ended in the film itself, director Uwe Boll remarks on the US DVD's commentary: "So Udo is dead now."
Melancholia (2011) [Wedding Planner]: Killed, along with everybody else in the world, when the planet Melancholia collides with Earth. 
TV Deaths
Edit
Video Game Deaths
Edit
Command & Conquer: Red Alert 2 (2000) [Yuri]: During the game's Soviet campaign, Udo is revealed to be a traitor in the second-to-last mission, and he physically dies in the Kremlin when the player destroys the building. Udo survives in the game's Allied campaign.
Command & Conquer: Red Alert 2 Yuri's Revenge (2001) [Yuri]: In the conclusion of the game's Soviet campaign, Udo is eaten by a T-Rex after the Soviets overload his time-machine in order to send him to prehistoric times. Udo lives in captivity in the game's Allied campaign.
Community content is available under
CC-BY-SA
unless otherwise noted.