Cobra Kai Season 4 - The Loop
Play Sound
Tsunehiko Watase (1944 - 2017)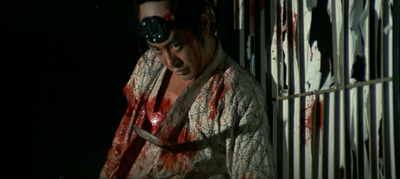 Film Deaths
[
]
Sympathy for the Underdog (Gamblers in Okinawa; Bakuto gaijin butai) (1971) [Susumu Seki]: Machine-gunned to death by Kenji Imai after a fight then dies after driving the jeep they're in foward.
Withered Tree (Kogarashi Monjiro) (Cold Country Wind Monjiro) (1972) [Yakuza] Stabbed in the back with a sword by Rin'ichi Yamamoto for having sex on his boat. 
Bullet Aesthetics (Teppôdama no bigaku) (1973) [Lead] Dies in a bus after being shot in the gut.
Battles Without Honor and Humanity The Yakuza Papers, Vol. 3: Proxy War (Jingi naki tatakai: Dairi sensô) (1973) [Kuramoto Takeshi]: Shot to death by rival gangsters sent by Kunie Tanaka while he was about to preform a hit in a theater after Takuzo Kawatani snitched on him.
Father of the Kamikaze (Â kessen kôkûta) (1974) [Pilot] Kills himself by crashing his plane into the sea after the war offically ends.
Blue Jeans - No Future (Jinzu burusu: Asu naki buraiha) (1974) [Jiro Katagiri] Mortally stabbed by Takuzô Kawatani. He is then shot by Meiko Kaji as a mercy killing.
Okinawa Yakuza War (Okinawa Yakuza Senso) (1976) [Hiroshi Kategaru]: Shot to death by Mikio Narita's men off-screen just as the film's climatic boat chase ends, it's only after Hiroki Matsukata checks on him do we find out that he died as he drives the boat away.
Sister Street Fighter: Fifth Level Fist (Onna hissatsu godan ken) (1976) [Shuji Takagi] Possibly dies after being shot. The movie ends before he dies, but the film makes it seem like he's not going to make it. 
The Fall of Ako Castle (Akô-jô danzetsu) (1978) [Heihachiro Kobayashi]: Accidentally walks back onto his own katana that was stuck in a wall after a long grueling duel with Sonny Chiba whom gives the killing blow via impalement with his own katana.
G.I. Samurai (Sengoku jieitai; Time Slip) (1979) [Hayato Yano]: Shot to death by Sonny Chiba after going rogue.
Virus (Day of Resurrection; Fukkatsu no hi) (1980) [Yasuo Tatsuno]: Dies after he walks into the snow and freezes to death.
Sailor Suit and Machine Gun (Sera-fuku to kikanju) (1981) [Sakuma, Makoto] Stabbed in a brawl off-camera that he tries to stop. His body is later shown at the morgue.
Death Shadow (Jitternai) (1986) [Samurai Lord]: Stabbed to death by 

Mariko Ishihara

.
Heaven and Earth (Ten to Chi to) (1990) [Usami] Sliced with a sword in a duel with Takaaki Enoki
Andromedia (1999) [Toshihiko Hitomi]: Shot in the back while in his office.
Connections
[
]
Brother of Tetsuya Watari