Truth or Dare (
2018) directed by Jeff Wadlow and written by Jillian Jacobs, Christopher Roach, Jeff Wadlow and Michael Reisz.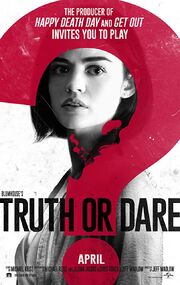 College adolescent Olivia Barron accompanies her best friend Markie Cameron and assortment of other college friends including Markie's boyfriend Lucas on a spring break trip to Mexico. There they are tricked by a stranger Carter into playing a possessed game of Truth or Dare which follows them home and begins to turn them against each other and kill them in grisly fashion: one by one leaving them to scramble to discover what they are dealing with and how to survive.
The eleventh Universal and Blumhouse Productions film collaboration
The first Blumhouse film marketed in title under the Blumhouse distributing company
Universal and Blumhouse's fifth teenage slasher horror film following Ouija, Unfriended, The Gallows and Happy Death Day
Filmed primarily in Atlanta, Georgia where the third season of Scream was filmed also featuring Tyler Posey as a teenage victim
The first theatrically released slasher film featuring a protagonist homosexual character
Male Deaths
Edit
Female Deaths
Edit
Community content is available under
CC-BY-SA
unless otherwise noted.