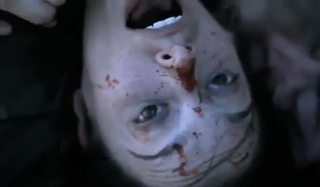 Trista Robinson (19?? - )
aka Tristan Robinson
The Human Race (2013) [Deaf Female]: Strangled by Eddie McGee, after Trista tries to push Eddie onto the grass.
Purgatory Road (2019) [Mary-Francis]: Shot in the leg then in the shoulder by Luke Albright, who then locks her in a cellar with a heavily deformed Chace Beck. Chace stabs Trista multiple times in the shoulder, chest, stomach and throat. When Gary Cairns goes looking for her, he eventually finds Chace near her severed head (an extremely poor quality prop). It's heavily implied that Chace had eaten the rest of her by this point.
Lost Tapes: Zombies (2010) [Zombie #2]: Died sometime before the events of the episode, then became a Zombie. The Epilogue mentions that the Boarding House was demolish and no human remains were recovered, stating she die again or is still out there.
Community content is available under
CC-BY-SA
unless otherwise noted.