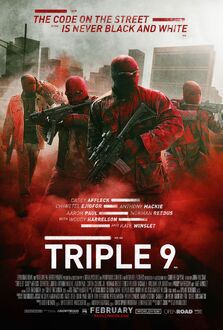 Director: John Hillcoat
Bullets fly on the Atlanta freeway as armed thieves (Chiwetel Ejiofor, Norman Reedus, Aaron Paul and Clifton Collins Jr.) make their getaway following a bank robbery in broad daylight. Unhappy with the results, ruthless gangster Irina Vlaslov (Kate Winslet) orders the men to pull off another job. One member of the team is Marcus Belmont (Anthony Mackie), a crooked cop who gets saddled with Chris Allen (Casey Affleck), his new but incorruptible police partner. As Belmont and his cohorts lay the groundwork for the heist, they come up with a devious plan to use Allen as their pawn.
Male Deaths
Edit
Female Deaths
Edit
Community content is available under
CC-BY-SA
unless otherwise noted.