Trin Miller (19?? -)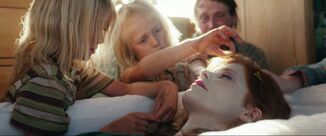 Captain Fantastic (2016) [Leslie Abigail Cash]: Commits suicide by slitting her wrists off camera. Her death is revealed when her husband (Viggo Mortensen) is informed over the phone by Kathryn Hahn. She appears as a ghost presumably a figment of their imaginations and her body is later seen in the back of a bus as her offspring say goodbye to her (after they dig her up and steal her out of her coffin), then again as the burn her on a makeshift funeral pyre
SOMA (2015) [Imogen Reed]: Willingly dies of suffocation prior to the events of the game, after shutting down all systems at the Upsillon Plant (including ventillation) in an attempt to stop the WAU; her death is fully depicted in the Transmissions web series. Her body is later repurposed by the WAU as a cyborg vessel for Jared Zeus ' mind, being brought back to life following the events of the prologue.
Community content is available under
CC-BY-SA
unless otherwise noted.