Wiki Targeted (Entertainment)
Play Sound
Trick (2019)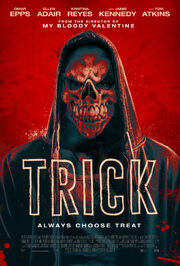 Synopsis
[
]
A fired detective turned private eye, helps police hunt a serial killer who only strikes every Halloween
Trivia
[
]
Outside the movie theater, Talbot gives Troy a mask and tells him all the kids get one. This is an inside joke/reference to Halloween 3 : Season of the Witch where Talbot, played by Tom Atkins starred as the main Protagonist. Halloween 3's story line revolved around halloween masks that would kill the children wearing them.
Omar Epps and Jamie Kennedy both starred in slasher sequel Scream 2 (1997), though they shared no scenes.
Patrick Lussier, Todd Farmer and Tom Atkins also collaborated on the slasher remake My Bloody Valentine (2009).
In one scene, the classic " Night of the Living Dead" is playing in a church turned into a movie theater. The aforementioned film was directed by George A. Romero who also directed Tom Atkins (Talbot) in another film of his "Creepshow".
Male Deaths
[
]
Tom Atkins
Todd Farmer
Thom Niemann
Alex Breaux
Robert G. McKay
Jerome Charvet
Robert M. Jimenez
Female Deaths
[
]
Sasha Diamond
Dani Shay
Vanessa Aspillaga
Adrienne Rose Bengtsson