Wiki Targeted (Entertainment)
Play Sound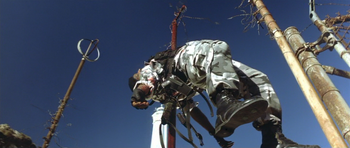 Tony Todd (1954 - )
Deaths in Film
[
]
Platoon (1986) [Sgt. Warren]: Presumably dies (off-screen) of his injures after his stomach is blown open in an explosion; we last see him being airlifted out in a helicopter. (Thanks to Matt)
Enemy Territory (1987) [The Count]: Jaw smashed in with a playground swing by Gary Frank, on top of being shot by

Ray Parker Jr.
Night of the Living Dead (1990) [Ben]: Shot in the chest by Tom Towles; he dies some time later after barricading himself in the basement. He comes back to life as a zombie, and dies once again when some hunters shoot him in the head (as Patricia Tallman tearfully looks on). (Thanks to Wen and Matt)
Candyman (1992) [Daniel Robitaille, The Candyman]: Stung to death (off-screen) by bees after a lynch mob cuts off his hand and smears his body with honey, decades before the movie begins; he returns to life as a supernatural being. (His death is only mentioned in this movie, but is shown on-screen in flashbacks in the sequels Candyman: Farewell to the Flesh and Candyman: Day of the Dead.) He is stabbed in the chest with a wooden beam by Virginia Madsen and burns to death afterwards killing. NOTE: He returns in a sequel, but the death here was meant to stick. (Thanks to Matt)
Excessive Force (1993) [Frankie Hawkins]: Shot in the head by Lance Henriksen in an act of betrayal after Tony fought Thomas Ian Griffith. Lance shoots him in the chest first, then in the head to finish him off. (Also to mention, earlier in the film, Tony faked his death by blowing up his apartment as Thomas was planning to visit him and a charred corpse was seen by Lance and paramedics until it was revealed later on that Tony was alive and well.)
Candyman: Farewell to the Flesh (1995) [Candyman, Daniel Robitaille] Shatters into hundreds of pieces with the magic mirror is destroyed. He later returns in a third film, but this death was initially intended to be final.
The Rock (1996) [Captain Darrow]: Impaled through the back on a pipe after being knocked through a window by a rocket fired by Nicolas Cage. (Thanks to Matt)
Sabotage (1996) [Sherwood]: Shot in the back of the head with a sniper rifle by Mark Dacascos, while Tony is driving away. (Thanks to Matt)
Candyman: Day of the Dead (1999) [Daniel Robitaille, The Candyman]: Along with the flashbacks of his original "human" death, he is seemingly finally destroyed when

Donna D'Errico

slashes and burns his portrait. (Thanks to PortsGuy and ND)
Murder-Set-Pieces (2004) [Clerk]: Shot in the stomach by

Sven Garrett

during a shoot-out in the adult bookstore. (Thanks to Beau)
The Strange Case of Dr. Jekyll and Mr. Hyde (2006) [Dr. Jekyll/Mr. Hyde]: Commits suicide by jumping off a building, killing both himself (Dr. Jekyll) and the Mr. Hyde persona as Tracy Scoggins and the police look on in shock.
Minotaur (2006) [Deucalion]: Suffocated when his sister (

Michelle Van Der Water

) covers his nose and mouth with her hands, while he's lying injured in the rubble of the temple. (Thanks to Stephen)
Shadow: Dead Riot (2006) [Shadow]: Executed by lethal injection, causing his body to explode due to his supernatural powers. He later returns to life, and explodes once again when

Carla Greene

stabs him in the hand, disrupting the mystical symbol on his palm.
Hatchet II (2010) [Reverend Zombie]: Bissected in half by Kane Hodder, who then grabs his exposed spine and pulls the skin off his body as Tony tries to crawl away.
Disciples (2014) [Duncan - Belial]: Stabbed in the back by Debra Lamb. He is then beheaded by

Tom Lodewyck

.
The Debt Collector (2018) [Barbosa]: Shot in the back (off-screen) by Vladimir Kulich; the shot cuts away when Kulich pulls the trigger.
Tales From the Hood 3 (2020) [William] Hacked and is decapitated.
Deaths in TV
[
]
Babylon 5: A Call to Arms (1999 TV) [Capt. Leonard Anderson]: Killed in an explosion, along with the rest of his ship's crew,, when he deliberately orders them to ram the ship into a giant alien weapon ship. (Thanks to Neil)
Sym-Bionic Titan: The Shaman of Fear (2010; animated) [Dark Shaman]: Destroyed by Lance (

Kevin Thomas

), Ilana (Tara Strong), and Octus (Brian Posehn) while using Sym-Bionic Titan.
Transformers Prime: Regeneration (2012; animated) [Dreadwing]: Playing the voice of a Transformer, he's shot through the chest with his own blaster by Megatron (Frank Welker) while he was trying to kill Starscream (Steven Jay Blum).
The Young and the Restless (2013) [Gus Rogan]: Dies from a heart attack.
Scream (2015 series) [Luther Thompson/Hook Man]: After being slashed multiple times by Ghostface's (Tyga) combat knife, he is restrained and crushed beneath a garbage compactor, as RJ Cyler struggles to save him, failing as the control box is damaged.
Video Game Deaths
[
]
Gallery
[
]
]