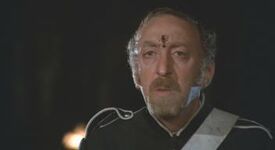 Tony Jay (1933 - 2006)
Prolific animation voice-over artist
Film Deaths
[
]
Love and Death (1975) [Vladimir Maximovitch]: Shot in the head (off-screen) during a battle with French soldiers; he appears as a ghost to Woody Allen afterwards.
Beasties (1991)

[Frankie]: Killed by one of the monsters.
The Hunchback of Notre Dame (1996; animated) [Judge Claude Frollo]: Falls from the cathedral into a pool of molten lead after the gargoyle he is holding onto breaks away. His soul taken to Hell as punishment for his numerous trangressions without any repentances. 
TV Deaths
[
]
Fall of Eagles (1974) [Tsar Alexander III of Russia]: Falls ill (although not mentioned in the series, the real life Tsar Alexander dies of kidney disease) and dies surrounded by friends and family.
Mighty Max: Armageddon Out Of Here (1994) [Virgil]: Vaporized by an energy bolt from the Skullmaster's (voiced by Tim Curry) scepter.
Superman: The Last Son of Krypton: Part I (1996; animated) [Sul-Van]: Killed in an explosion along the everyone else on Krypton when the planet gets destroyed.
Video Game Deaths
[
]
Blood Omen: Legacy Of Kain (1996) [Mortanius the Necromancer / William the Just / The Dark Entity] : "Mortanius" is killed in battle with Simon Templeman, having decided to commit suicide by allowing Simon to complete his purge of the Circle; his lifeless body is then possessed by "The Dark Entity," who also dies in combat with Simon. "William the Just" is murdered by Simon (after being sent back in time by Richard Doyle) in a botched attempt to stop him from becoming The Nemesis.
Legacy Of Kain: Soul Reaver (1999) [The Elder God / Zephon]: "Zephon" is burned alive at the end of a boss battle when Michael Bell sets several of Zephon's eggs on fire and launches them back at him; his soul is then devoured by Michael. "The Elder God" survives the game."
Gallery
[
]