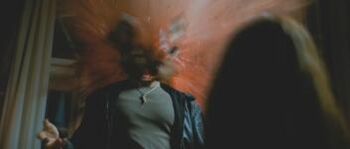 Tony Curran (1969 - )
Blade II (2002) [Priest]: Tony dies two deaths. The first death occurs when he is given a mercy-killing by Matt Schulze by multiple gunshot wounds to the chest after having been bitten by a reaper. After being reanimated by the virus, Ron Perlman decapitates Tony's skull, and for good measure, Wesley Snipes incinerates Tony's body by exposing him to sunlight, leaving behind the severed head.
The Lazarus Project (2008 formerly known as The Heaven Project) [William Reeds]: Commits suicide by jumping off a cliff (in a bid to escape the isolated community) as Paul Walker tries to stop him. His body is later seen being pulled up a cliff-side as Paul talks to Bob Gunton.
In the Dark Half (2012) [Filthy]: Commits suicide by drug overdose so he can join his son (Alfie Hepper) in the afterlife, he dies while talking to Jessica Barden. His body is later seen as she constructs a makeshift funeral pyre for him before setting it on fire.
Awaiting (2015) [Morris]: Shot in the throat by Rupert Hill. He dies shortly afterwards in Diana Vickers arms.
24: Day 8: 10:00pm-11:00pm (2010) [Lugo Elson]: Impaled in the neck after Kiefer Sutherland takes out a knife which Annie Wersching accidentally stabbed him with and throws it at Curran when Curran comes in after sensing that his boss Callum Keith Rennie is in danger.
Doctor Who: Vincent and the Doctor (2010) [Vincent van Gogh]: Months after the point in his life when the episode takes place, shoots himself in the chest with a 7mm Lefaucheux à broche revolver, despite the events of the episode. Though his organs weren't damaged, he died from an untreated infection during the early hours of July 29th. He is also shown in 'Doctor Who: The Pandorica Opens'.
The Comic Strip Presents: The Hunt for Tony Blair (2011) [Robin Cook]: Pushed off of a cliff by Stephen Mangan. (Played for comic effect.) (Thanks to ND)
Community content is available under
CC-BY-SA
unless otherwise noted.