Tomoro Taguchi (1957 - )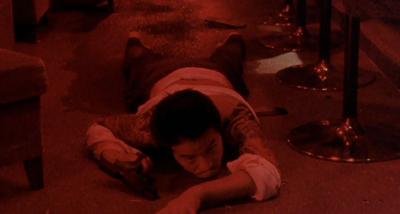 Shinjuku Triad War (Shinjuku kuroshakai: Chaina mafia sensô) (1995) [Wang]: Stabbed in the throat by Kippei Shîna.
Gamera 2: (Gamera 2: Region Shurai) Attack of Legion(1996) [Subway Driver]:Mauled and torn apart by the Legion monster.   
Non-Stop (Dangan ranna) (1996) [Yasuda] The film ends right before he turns on his lighter as gas has completely gone uncheck in the rooom, possibly blowing himself up.  

Unlucky Monkey

(

Anrakkî monkî) (1998) [Miyata, Killer]: Accidentally kills himself when he falls to the floor setting off his gun and blowing away he genitials.
Ley Lines (Nihon kuroshakai) (1999) [Chan]: Shot in the stomach and dies while sitting in the back seat of the car. 
Taboo (Gohatto) (1999) [Samurai Tojiro Yuzawa]: Sliced open with a sword in an ambush by Ryûhei Matsuda.
Gantz: Perfect Answer (2011) [Kouta Nakamura]: Stabbed to death. He is later brought back to life at the end of the film.
None Known.
Community content is available under
CC-BY-SA
unless otherwise noted.