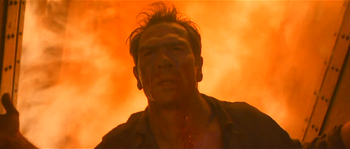 Tommy Lee Jones (1946 - )
Film Deaths
Edit
Eliza's Horoscope (1975) [Tommy Lee]: Shot to death by police while attempting to detonate a bridge.
The Eyes of Laura Mars (1978) [John Neville]: Killed by Faye Dunaway (as Jones challenges her to shoot him before he stabs her). (Thanks to Mal)
The Package (1989) [Thomas Boyette]: Shot repeatedly in a shootout with Gene Hackman when Jones turns to point his gun at Gene just as he is about to commit an assassination.
Under Siege (1992) [William "Bill" Strannix]: Stabbed in the head (having had his right eye gouged out) by Steven Seagal, who then slams his head into a console screen, electrocuting him in the process at the end of a fight. (Thanks to Mathew, Larry and Nilescu)
Heaven & Earth (1993) [Steve Butler]: Commits suicide (off-sceen).
Blown Away (1994) [Ryan Gaerity]: Killed in an explosion when his hideout blows up after a fight with Jeff Bridges. (Thanks to Mathew and Nilescu)
Cobb (1994) [Ty Cobb]: Dies of old age/natural causes.
Natural Born Killers (1994) [Warden Dwight McClusky]: Decapitated (off-screen) by prisoners during a riot. In the original version, we only saw the prisoners closing in on him; in the Director's Cut, there is a shot of his severed head on a spike afterwards. (Thanks to Mathew, George and Nilescu)
Small Soldiers (1998) [Major Chip Hazard]: Providing the voice of a sentient action figure, he is electrocuted/short-circuited by a power line, creating an electro-magnetic pulse that deactivates the other action figures. His Head is seen one last time being held by Denis Leary.(Thanks to Mathew)
Space Cowboys (2000) [William "Hawk" Hawkins]: Killed when he sacrifices himself by detonating a bomb on the satellite, in order to prevent it from colliding with Earth; his body is shown on the lunar surface afterwards. (Thanks to Mathew, Adam and Nilescu)
The Missing (2003) [Samuel Jones/Chaa-duu-ba-its-iidan]: Falls to his death when he tackles Eric Schweig and they both plunge off the cliff; his body is shown lying on the ground afterwards (then again being wrapped up on a horse as his granddaughter, Jenna Boyd cries over him). (Thanks to Emily, Mathew, Fortza and Nilescu) (Also important to note that there are 3 other extended and alternate versions of his death scene in the deleted scenes section of the DVD.)
TV Deaths
Edit
The Amazing Howard Hughes (1977 TV) [Howard Hughes]: Dies of kidney failure. (Thanks to Mathew)
The Executioner's Song (1982 TV) [Gary Gilmore]: Executed by the firing squad. (I haven't seen this, but I'm familiar with the historic facts.)
April Morning (1988 TV) [Moses Cooper]: Shot by the British army during the war. His body is shown later on his bed when his son (Chad Lowe) goes to pay his final respect.
Video Game Deaths
Edit
Small Soldiers (1998) [Major Chip Hazard]: Killed by Gregg Berger.
Notable Connections
Edit
Cousin of Boxcar Willie (singer).
Mr. Dawn Jones (camera operator).
Father of Austin Leonard Jones and Victoria Jones.
Community content is available under
CC-BY-SA
unless otherwise noted.