Spider-Man: No Way Home Trailer Dropped - The Loop
Play Sound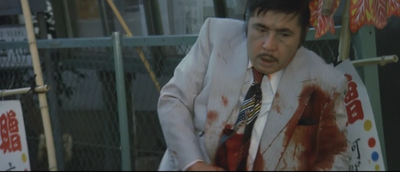 Tomisaburo Wakayama (1929 - 1992)
Film Deaths
[
]
The Tales of Zatoichi Continesu (Zoku Zatôichi monogatari) (1962) [Nagisa no Yoshiro]: Stabbed numerous times by multiple attackers. He dies talking to Shintaro Katsu.
Shinobi No Mono 2: Vengeance (Zoku shinobi no mono) (1963) [Nobunaga Oda]: Has his arms and legs cut off by Raizô Ichikawa . He then falls into a flaming pit as the floor beneath him collapses as his castle burns to the ground.
Zatoichi and the Chest of Gold (Zatôichi senryô-kubi) (1964) [Jushiro]: Stabbed in the chest by Shintaro Katsu with his cane sword.
Shinobi No Mono 5 (Shinobi no mono: zoku kirigakure Saizo) (1964) [Sanada Yukimura]: Stabs himself in the neck with a shuriken.
Big Time Gambling Boss (Bakuchiuchi Socho Tobaku) (1968) [Tetsuo Matsuda]: Stabbed to death by Kôji Tsuruta.
Brothers Serving Time (Choeki san kyodai) (1969) [Boss]: Dies from wounds inflicted from a fight with numerous yakuza but not before taking out their boss.
Japan Organized Crime Boss (Nihon boryoku-dan: Kumicho) (1969) [Miyahara]: Shot to death off-screen with numerous yakuza he was holding off. His body is later discovered with dozens of bullet holes including one in his forehead.
Sympathy for the Underdog (Gamblers in Okinawa; Bakuto gaijin butai) (1971) [Yonabal]: Shot multiple times by attacking yakuza while simultaneously shooting them. 
The Pledge (Bakuchi-uchi Gaiden) (1972) [Boss]: Stabbed in the stomach with a sword by Kôji Tsuruta.
New Battles Without Honor and Humanity 1 (Shin jingi naki tatakai) (1974) [Aoki Naotake]: Shot to death by Hiroki Matsukata (whom he had crippled earlier), he falls over into a barrel upon the first few shots, where upon Matsukata continues emptying his revolver until Wakayama is dead.
Samurai Reincarnation (Makai tenshô) (1981) [Lord Tajima no Kami Munenori Yagyu]: Has his throat slit by his son (Sonny Chiba) in a duel within a burning castle.
Irezumi (1982) [Kyogoro / the Tatto Artist] Dies of old age off-screen. We see his body at his funeral.
Black Rain (1989) [Sugai]: While he's not dead at the end of the film, there is a chance he was shot as all of his men were being murdered at the meeting. His fate is never confirmed one way or another. Will list just in case.
TV Deaths
[
]
Shingo's Ten Swordfights (Shingo juuban shoubu) (1990) (TV Movie) [Takeda Ishin] Sliced down the middle with a sword by Hiroyuki Sanada
Connections
[
]
Gallery
[
]