Line 20:
Line 20:
 

*'''''[[St. Elsewhere (1982 series)|St. Elsewhere: Graveyard (1983)]]''''' [''David "John Doe #12" Stewart'']: Shot (off-screen) by gang members and is presumed dead after blood loss. He is revived by surgeons/doctors (including [[Howie Mandel]], [[David Birney]], etc.) during surgery prior to the next episode where Tom is interviewed by [[Denzel Washington]].

 

*'''''[[St. Elsewhere (1982 series)|St. Elsewhere: Graveyard (1983)]]''''' [''David "John Doe #12" Stewart'']: Shot (off-screen) by gang members and is presumed dead after blood loss. He is revived by surgeons/doctors (including [[Howie Mandel]], [[David Birney]], etc.) during surgery prior to the next episode where Tom is interviewed by [[Denzel Washington]].

 
 
−

*'''''Murder In Mississippi ''(1990 TV Movie)''' [''[https://en.wikipedia.org/wiki/Michael_Schwerner Mickey Schwerner]'']: Shot to death, along with [[Josh Charles]] and [[Blair Underwood]], by a group of Klansmen (including [[Walton Goggins]] and [[Ray McKinnon]]).

+

*'''''Murder In Mississippi (1990 TV Movie)'''[''[https://en.wikipedia.org/wiki/Michael_Schwerner Mickey Schwerner]'']: Shot to death, along with [[Josh Charles]] and [[Blair Underwood]], by a group of Klansmen (including [[Walton Goggins]] and [[Ray McKinnon]]).

 
+
 

==Gallery==

 

==Gallery==

 
 
---
Revision as of 03:10, 14 June 2018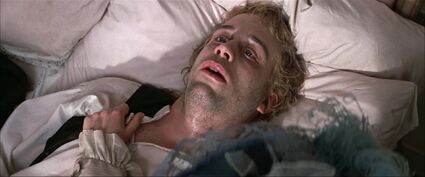 Tom Hulce (1953 - )
aka Thomas Hulce
Note for readers: surname pronounced "Hulch".
Film Deaths
Slam Dance (1987) [Charles Drood]: Apparently dies in explosion after sparing his life by killing Don Opper in the Hollywood sign. Tom brings himself back to life, despite the funeral being seen as he went in disguise at the end. (Played for comic effect.)
Mary Shelley's Frankenstein (1994) [Henry Cleval]: Although Tom survives in an alternate scene, he apparently dies in a burning big house after Kenneth Branagh revs up his Reanimatormatic, leaving Tom to scream out "NO!" (He is just not seen again, as of the actual ending of the movie).
Jumper (2008) [Mr. Bowker]: His death was not mentioned by anyone, not even Hayden Christensen nor Rachel Bilson as it was unknown that he had old age. (He was only seen at the beginning while teaching a class, but listed just in case.)
TV Deaths
Gallery
Community content is available under
CC-BY-SA
unless otherwise noted.