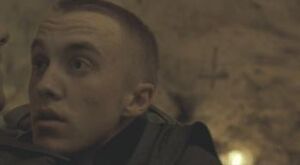 Tom Felton (1987 - )
The Disappeared (2008) [Simon Pryor]: Neck snapped by the demonic Alex Jennings at the end of a struggle in the catacombs; his body is shown again afterwards when Harry Treadaway discovers him. (Thanks to ND)
The Apparition (2012) [Patrick]: Killed (off-screen) by the ghost after it pulls him into the closet. (Thanks to Tommy, Tim, and ND)
In Secret (Thérèse) (2013) [Camille Raquin]: Bludgeoned to death with an oar by Oscar Isaac after being knocked overboard as his cousin (Elizabeth Olsen) looks on. his body is later seen (presumably a SPFX dummy) when Oscar goes to identify him in the morgue. He later appears as a ghost to his mother (Jessica Lange) as she has a stroke and Olsen (presumably figments of their imaginations)
Feed (2017) [Matthew Grey]: Killed when he gets into a car accident while driving around with his sister (Troian Bellisario); He then appears as hallucinations to Troian.
Stratton (2017) [Cummings]: Commits suicide by shooting himself in under the chin, as Gemma Chan looks on.
Against the Sun (2014) [Tony Pastula]: Dies of unspecified causes; his death is mentioned in the ending titles of the film.
Murder in the First: Blunt the Edge (2014) [Erich Blunt]: Commits suicide (off-screen) by hanging himself in his cell.
Community content is available under
CC-BY-SA
unless otherwise noted.