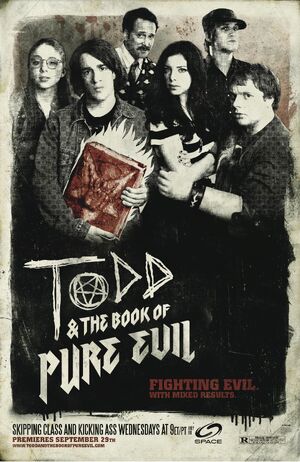 Todd and the Book of Pure Evil (TV series; 2010 - 2012)
aka Todd & The Book of Pure Evil
A stoner metalhead named Todd Smith, his crushee Jenny, his best friend Curtis, and the geeky Hannah search their high school for a mayhem-causing Satanic spell book while being opposed by Atticus, the evil guidance counselor.
Based on a 2003 short film.
This show ended on a cliffhanger right before it was canceled after the second season. The story was finally concluded in 2017 in the animated film Todd and the Book of Pure Evil: The End of the End. It's highly recommended to watch the show before the movie; otherwise many of the film's plot points might not make sense.
The title card for this show spells the title with an ampersand rather than the word "and". However, the official spelling on IMDb uses the word "and". This is also the title used by iTunes.
This show has tons of blood and gore. It's always played for comic effect but the show is definitely not for the squeamish. There's also a lot of crass/lewd humor (especially from Jason Mewes' character), so the show is also not for the prudish.
Many other unlisted students suffer gruesome deaths; however, the actors/actresses are completely uncredited.
Community content is available under
CC-BY-SA
unless otherwise noted.