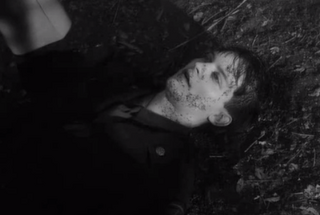 Tobey Maguire (1975 - )
Deconstructing Harry (1997) [Harvey Stern]: In the short story within the film that Woody Allen has written, Tobey is accidentally claimed by Death (Ralph Pope), who mistakes Tobey for his dying friend while Tobey is using said friend's apartment to have sex with a hooker. (Played for comic effect.)
The Good German (2006) [Tully]: Drowned (off-screen) by Cate Blanchett. His body is seen when pulled out of the river.
The Details (2011) [Jeff Lang]: Crushed by a falling piano; this turns out to happen in his imagination. He survives the film in reality.
Pawn Sacrifice (2014) [Bobby Fischer]: Dies of renal failure (off-screen) several years after the conclusion of the film; his death is mentioned during the on-screen text at the end of the film.
Eerie, Indiana: The Dead Letter (1991) [Tripp McConnell]: Killed by a milk truck, 62 years before the episode begins. He appears as a ghost through out the episode.
The Spoils of Babylon: So Sweet the Bells (2014) [Devon Morehouse]: Shot in the stomach by Haley Joel Osment; he dies at the end of the episode, after narrating his entire life story into a tape recorder. (Played for comic effect.)
Community content is available under
CC-BY-SA
unless otherwise noted.