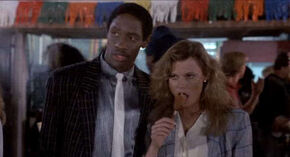 Tim Russ (1956 - )
Star Trek: The Next Generation: Starship Mine (1993) [Devor]: (Killed off-screen) by radiation poisoning after getting knocked out by Patrick Stewart.
Star Trek: Voyager: Deadlock (1996) [Tuvok]: After the ship and crew are duplicated, one "Tuvok" is shot and killed with a phaser by a Vidiian boarding party. The other "Tuvok" survives.
Star Trek: Voyager: Timeless (1998) [Tuvok]: Killed, along with the rest of the crew on the ship, when it crashes into a frozen planet. His death is undone when Garrett Wang successfully prevents the crash.
Star Trek: Voyager: Course: Oblivion (1999) [Tuvok]: Playing a "biomimetic copy" of his regular character, the copy presumably succumbs, off-screen, to the radiation from the enhanced warp drive. The character disappears between scenes, and his death is not mentioned, nor his body shown, but it is established that all of the "biomimetic copies" died.
Star Trek: Voyager: Shattered (2001) [Tuvok]: Dies of radiation poisoning with Kate Mulgrew at his side. His death is undone when Robert Beltran successfully resolves the temporal anomaly.
Castle: Time Will Tell (2013) [Dr. Malcolm Wickfield]: Beaten to death by Jess Allen.
American Horror Story: 1984: Red Dawn (2019) [Mr. Chambers]: Commits suicide by stabbing himself in the neck as his daughter (Angelica Ross) looks on in horror; Tim appears to Angelica as a spirit.
Community content is available under
CC-BY-SA
unless otherwise noted.