Wiki Targeted (Entertainment)
Play Sound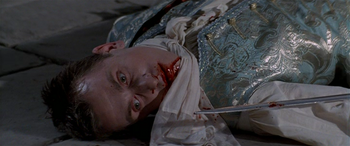 Tim Roth (1961 - )
Film Deaths
[
]
The Hit (1984) [Myron]: Shot in the eye by John Hurt. (Thanks to Val)
Rosencrantz and Guildenstern Are Dead (1990) [Guildenstern]: Executed by hanging, along with Gary Oldman we only see a shot of the ropes drawing taut after they drop.
Vincent & Theo (1990) [Vincent Van Gogh]: Commits suicide by shooting himself in the stomach. 
Jumpin' at the Boneyard (1992) [Manny]: Shot in the back. (Thanks to Valerie)
Reservoir Dogs (1992) [Freddy Newandyke a.k.a. Mr. Orange]: Shot in the head (off-camera) by Harvey Keitel in the warehouse; we hear the shot after the camera pulls in to a close-up of Harvey after severly bleeding from a gunshot wound in the stomach by Suzanne Celeste and and in the chest by Lawrence Tierney. (Thanks to Val and Stephen)
Rob Roy (1995) [Archibald Cunningham]: Slashed across the chest during a swordfight with Liam Neeson (almost cleaving him in two). (Thanks to Val and Stephen)
Hoodlum (1997) [Dutch Schultz]: Shot to death by a hitman (Ed O'Ross) in a restroom. (Historically; Dutch was shot along with three other associates. They were gunned down by Charles Workman and Emanuel "Mendy" Weiss) (Thanks to Val)
The Legend of 1900 (La Leggenda del pioanista sull'oceano) (1998) [Danny Boodmann T.D. Lemon Nineteen Hundred a.k.a. 1900]: Killed in an explosion on the ship. (Thanks to Valerie)
The Million Dollar Hotel (2000) [Izzy Goldkiss]: Commits suicide by dropping off the side of a building. (Thanks to Valerie)
Invincible (2001) Hersche Steinschneider a.k.a. Erik Jan Hanussen]: Shot repeatedly by Nazi soldiers. (Thanks to Valerie)
The Musketeer (2001) [Febre, the Man in Black]: Stabbed to death by Justin Chambers. (Thanks to Valerie and Leanne)
Killing Emmett Young (Emmett's Mark) (2002) [John Harrett a.k.a. Frank Dwyer]: Shot to death by Scott Wolf. (Thanks to Val)
To Kill a King (2003) [Oliver Cromwell]: Dies of liver and kidney disease. (Thanks to Val)
The Last Sign (2005) [Jeremy Macfarlane]: Killed in a car crash while driving drunk; he appears as a ghost afterwards. (Thanks to Valerie)
Even Money (2006) [Victor]: Shot several times in the chest by Danny DeVito while Tim tries to shoot Kelsey Grammer in his house.
Funny Games (2007) [George]: Shot to death (off-camera) by Michael Pitt; we only see Michael pointing the gun, followed by a scene of Michael and Brady Corbet taking the bound Naomi Watts out onto the boat. (See also Ulrich Muhe in the 1997 version.) (Thanks to ND)
Youth Without Youth (2007) [Dominic]: Frozen to death. (Thanks to Nilescu)
The Liability (2012) [Roy]: Presumably bleeds to death of his injuries (he is last seen being left outside a church by Jack O'Connell, who had accidentally shot him).
The Hateful Eight (2015) [Oswaldo Mobray/English Pete Hicox]: Dies of blood loss (off-screen) after being shot in the chest by Walton Goggins (in retaliation for him shooting Walton) and later in the leg by Samuel L. Jackson; he is last seen writhing on the floor after Samuel shoots him.
Mr. Right (2016) [Hopper]: Shot in the back by RZA as he is preparing to shoot Sam Rockwell.
1 Mile to You (2017) [Coach Jared]: Killed in a bus crash.
The Padre (2018) [Padre]: Dies from blood loss after being shot in the shoulder by Nick Nolte. He later succumbs to his injuries while driving

Valeria Henríquez

to safety.
TV Deaths
[
]
Murder With Mirrors (1985 TV) [Edgar Lawson]: Drowns in a lake when rowing a rotten boat which sinks under him in as he flees the police. (Thanks to Brian)
Murder in the Heartland (1993 TV mini-series) [Charles Starkweather]: Executed in the electric chair. (Thanks to Valerie)
Klondike: Part 3, Chapter 6 (2014) [The Count]: Freezes to death (off-screen); his body is first shown when Richard Madden and Tim Blake Nelson see him being dragged into town and again when Marton Csokas sees him alongside other corpses.
Rillington Place: Reg (2016) [John Reginald Christie]: Executed by hanging. (See also Richard Attenborough in the 1971 film 10 Rillington Place.)
Twin Peaks: Part 16 (2017) [Gary "Hutch" Hutchens]: Machine-gunned by Jonny Coyne (along with Jennifer Jason Leigh) after Jennifer tries to shoot Jonny.
Gallery
[
]