(Adding categories)

 

(24 intermediate revisions by 17 users not shown)
Line 1:
Line 1:
 
+

[[File:Creedy's_death.png|thumb|350px|Tim Pigott-Smith in ''V For Vendetta'']]

−

[[File:Placeholder|video|right|300px]] [[File:Placeholder|right|300px]]

 
−

Tim Pigott-Smith (1946-)

+

Tim Pigott-Smith (1946-)

 
 
 

==Film Deaths==

 

==Film Deaths==

 
+

*'''''[[Clash of the Titans (1981)|Clash of the Titans]]''[[Clash of the Titans (1981)| (1981)]]''' [''Thallo'']: Stabbed in the back with a trident by the special effect creation of Calibos. The 'normal' character is played by [[Neil McCarthy]]. ''(Thanks to Brian)''

 
 
−

*'''''Clash Of The Titans (1981)''''' [''Thallo'']: Stabbed in the back with a trident by the special effect creation of Calibos. The 'normal' character is played by [[Neil McCarthy]]. ''(Thanks to Brian)''

+

*''''' ()''''' ['''']: a of . ''(Thanks to )''

 
+
−

*'''''V for Vendetta'' (2006)''' [''Deputy Chancellor Peter Creedy'']: Neck Snapped by [[Hugo Weaving]] after Tim shoots him to no effect.

 
 
+

*[[Alice Through the Looking Glass (2016)]] [Lord Ascot]:

 
 
 

==TV Deaths==

 

==TV Deaths==

 
+

*'''''The Lost Boys'' (1978; miniseries)''' [''Arthur Llewelyn Davies'']: Dies off-screen from cancer.

 
 
 
+

*'''''Henry IV Part I'' (1979 TV)''' [''[http://en.wikipedia.org/wiki/Henry_Percy_(Hotspur) Henry Percy, Hotspur]'']: Stabbed to death in battle by [[David Gwillim]].

−

Write the second section of your page here.

 
 
+
⚫
 
 
+

*'''''The Jewel in the Crown'' (1984; miniseries)''' [''Captain Ronald Merrick'']: Killed by his male lover. (''Thanks to Mac'')

⚫
 
 
+
 
+

*'''''Pompeii: The Last Day'' (2003)''' [''Pliny the Elder'']: Suffocates during Mount Vesuvius' eruption (it is disputed as to how he died in real-life).

 
+
 
+

{{DEFAULTSORT:Pigott-Smith, Tim}}

 

[[Category:Actors]]

 

[[Category:Actors]]

 
⚫
 

[[Category:British actors and actresses]]

 

[[Category:British actors and actresses]]

 
⚫
 

[[Category:Death scenes by assassination]]

 

[[Category:Death scenes by assassination]]

 

[[Category:Death scenes by broken neck]]

 

[[Category:Death scenes by broken neck]]

 

[[Category:Death scenes by contrived self-defense]]

 

[[Category:Death scenes by contrived self-defense]]

 
+

[[Category:Death scenes by stabbing]]

 
+

[[Category:Death scenes by combat]]

 
+

[[Category:Death scenes by murder]]

 
+

[[Category:Comic book movie deaths]]

 
+

[[Category:2017 Deaths]]

 
+

[[Category:Crime Stars]]

 
+

[[Category:Fantasy Stars]]

 
+

[[Category:Sci-Fi Stars]]

 
+

[[Category:Family Stars]]

 
+

[[Category:Thriller Stars]]

 
+

[[Category:James Bond Stars]]

 
+

[[Category:Actors who died in Chad Stahelski Movies]]

 
+

[[Category:Actors who died in James McTeigue Movies]]

 
+

[[Category:Heart attack victims]]

 
+

[[Category:Actors who died in William Shakespeare Movies]]

 
+

[[Category:Alice in Wonderland Cast Members]]

 
+

[[Category:Actors who died in The Wachowskis Movies]]

 
+

[[Category:Actors who died in David Leitch Movies]]

 
+

[[Category:People who died in an Alice in Wonderland film]]

 
+

[[Category:Off-screen deaths]]

 
+

[[Category:Pages in need of updating]]
---
Latest revision as of 20:40, 8 July 2021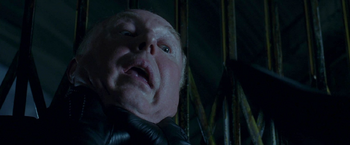 Tim Pigott-Smith (1946 - 2017)
Film Deaths[]
V for Vendetta (2005) [Deputy Chancellor Peter Creedy]: Neck snapped by Hugo Weaving in a subway tunnel, after Hugo kills the rest of Tim's Fingermen hit squad members (as Tim shoots at him to no effect). (Thanks to Patrick)
TV Deaths[]
The Lost Boys (1978; miniseries) [Arthur Llewelyn Davies]: Dies off-screen from cancer.
The Jewel in the Crown (1984; miniseries) [Captain Ronald Merrick]: Killed by his male lover. (Thanks to Mac)
Pompeii: The Last Day (2003) [Pliny the Elder]: Suffocates during Mount Vesuvius' eruption (it is disputed as to how he died in real-life).