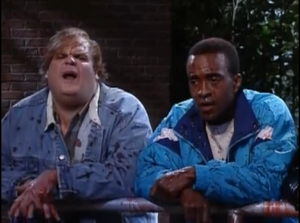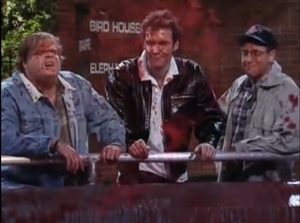 Tim Meadows (1961- )
Coneheads (1993) [Athletic Cone]: Eaten (off-screen) by the Garthok. We only see Tim screaming and the audience's reaction to it when it spits out one of his limbs. (Played for comic effect.)
Saturday Night Live (May 13, 1995) [Tim Meadows]: In the "Polar Bear Sketch", he is mauled to death (off-screen) by a polar bear shortly after jumping into the pit. His blood gushes on-screen onto Adam Sandler, Chris Farley and Norm MacDonald. (Played for comic effect.)
Saturday Night Live (October 19, 1996) [Citizen]: Killed when an alien that was incubating inside him (in a parody of Alien) bursts out of his chest while talking to the two presidential candidates during a debate.
Saturday Night Live (October 25, 1997) [Dr. Kenneth Whatley]: It's been a long time since I seen this episode, but I do recall him bleeding to death after the giant baby (Chris Farley) rips his arms off.
Community content is available under
CC-BY-SA
unless otherwise noted.