Wiki Targeted (Entertainment)
Play Sound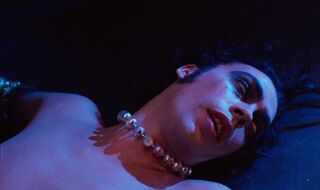 Tim Curry (1946 - ) 
Film Deaths
[
]
Clue (1985) [Wadsworth]: Shot to death by Michael McKean (in the hall, with the revolver), in the last of the movie's three endings.
Legend (1985) [Darkness]: Sucked into a vortex and explodes after being stabbed with a unicorn horn by Tom Cruise, then getting his arm cut off as he attempts to hold onto the Earth (it is implied that he did survives in the theatrical version. He does in fact die in the Director's cut). (Thanks to Juliet, Steven, and Michael)
FernGully: The Last Rainforest (1992; animated)[Hexxus]: Turned into the tree he was once imprisoned in and, as he no longer appears on screen as a result, he suffocates off screen after the events
The Shadow (1994) [Farley Claymore]: Accidentally jump landing on a glass table after Alec Baldwin uses his powers to manipulate him into jumping through an indoor window into a lobby landing, mistaking it for an exit.  
Congo (1995) [Herkermer Homolka]: Skull-crushed when one of the gorillas smashes his skull.
The Pebble and the Penguin (1995; animated) [Drake]: Voicing a penguin; he is crushed to death when he accidentally causes the ice tower/stadium he's in to fall apart and collapse onto him.
A Christmas Carol (1997; animated) [Ebenezer Scrooge]: Dies (off screen) before "The Ghost of Christmas Present" Whoopi Goldberg brings him to the future. He sees his tombstone and his death is prevented as he changes his ways.
Doom Runners (1997) [Dr. Kao]: Poisoned when Nathan Jones exposes him to toxic fumes. (Thanks to ND)
McHale's Navy (1997) [Major Vladikov]: Killed in an explosion when Tom Arnold sends one of Tim's own torpedoes towards Tim's boat. (Thanks to ND)
Scooby-Doo and the Witch's Ghost (1999; animated) [Ben Ravencroft]: Killed when the book burns after he and his ancestor (Tress MacNeille) gets sucked into the book.
Four Dogs Playing Poker (2000) [Felix]: Dies of shock/blood loss (off-screen) after his feet are cut off; his body is shown afterwards hanging in a meat locker. (Thanks to PortsGuy)
Sorted (2000) [Damian Kemp]: Falls to his death at the end of a fight with Matthew Rhys. (Thanks to ND)
Blood Moon (Wolf Girl) (2001) [Harley Dune]: Slashed to death by

Victoria Sanchez

. (Thanks to ND)
Scary Movie 2 (2001) [Professor Oldman]: Killed (off-screen) by the succubus; the scene ends with him screaming as she reveals her true appearance.
Barbie In The Nutcracker (2001) [The Mouse King]:
TV Deaths
[
]
Oliver Twist (1982 TV) [Bill Sikes]: Falls to his death after slipping from the roof of a building.
The Greatest Adventure Stories from the Bible: The Easter Story (1986; animated) [Judas Iscariot]: Presumably committed suicide (off-screen) by hanging.
Darkwing Duck: Darkly Dawns The Duck (1992; animated) [Taurus Bulba]: Blown up along Tim's stolen anti-gravity gun after a fight with Jim Cummings.
Tales From The Crypt: Death of Some Salesman (1993) [Pa Brackett/Ma Brackett/Winona Ryder]: Playing a triple role, "Pa Brackett" got killed by his neck snapped by Winona, "Ma Brackett" got her head bashed on the floor by Winona, and "Winona Brackett got shot by

Ed Begley Jr

, it turns out all three characters faked their deaths.
Lexx: The Dark Zone Stories: Super Nova (1997) [The Poet]: Dies millennia before the episode begins of unspecified causes. As an inhabitant of the planet Brunnis, Tim sleeps through the planets evacuation because of their sun's instability, after getting so drunk at the evacuation party. Then he sleeps for several days waking to find everyone gone. He appears as a hologram to the crew of the Lexx who arrive shortly before the star explodes. (Thanks to Stephen)
Gary and Mike: Crisscross (2001) [Jared]: Accidentally injects himself with poison during a struggle with Gary (

Christopher Moynihan

).
Mattimeo: A Tale of Redwall: Return to Redwall (2001) [Slagar the Slaver]: Falls down an abandoned well to his death due to flying rubble from

Tyrone Savage

and

Anthony Bekenn

smashing a boulder he threw at them.
The Colour of Magic (Terry Pratchett's The Colour of Magic) (2008 TV) [Trymon]: Turned to stone when his own spell backfires as he slips on a banana peel while trying to kill David Jason; his body is later shattered when some workers accidentally drop him while moving him.
Video Game Deaths
[
]
Brutal Legend (2009) [Diviculus]: Decapitated with a battle axe guitar by Jack Black.
Dragon Age: Origins (2009) [Arl Rendon Howe]: Killed in a fight with the player characters after Tim attempts to stop them from rescuing

Mika Simmons

.
Gallery
[
]